Life is short, but don't forget to stop and smell the roses! These common sentiments make me want to hurry up to experience life to its fullest before it's too late, while making sure to slow down to appreciate life at the same time. Being a working parent with an unending to-do list that doesn't typically include 'seeing the seven wonders of the world' or 'helping to feed the hungry.' it is challenging to find time to even begin thinking about these seemingly lofty goals.
Enter GoalFriends –  a place where I feel like I've been granted the luxury to dream BIG! With all of my daily must-do's, it certainly feels like a luxury, but GoalFriends reminds me to stop and think… why not? Sure, I could've just set some goals on my own, but what sets GoalFriends apart is the ability to be inspired by my fellow GoalFriends who provide the support, (judgement -free) listening ears, and accountability that I believe will enable me to accomplish what I set out to do in a more concerted way.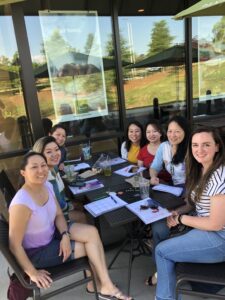 From the start, I felt welcomed by the amazing women in the group who are already so well accomplished, yet they desire to do more. There is an openness that allows even the most reserved of us to be comfortable enough to share our varied experiences and stories. What is exciting is that each of us are committing ourselves to reach higher and farther than we ever imagined we could. And although we are all on our own personal journeys, GoalFriends creates an atmosphere in which we are encouraged to celebrate each other's successes. There is accountability with compassion and a true desire to see your GoalFriends succeed. Not only am I excited to cheer my GoalFriends on, I also look forward to what GoalFriends will enable me to do. Chinese philosopher and writer Laozi has said, "a journey of a thousand miles begins with a single step," and I'm so glad that I took that first step to develop some GoalFriendships this year!
By Sania Tong Argao, EMMD Quality Assurance Manager, EPA  – GoalFriend Since 2019